Safe Drinking Water For Schools Program
The problem with drinking water at schools
In Indonesia, only 21 percent of schools provide safe drinking water to their schools [1]. As a result, many school children buy expensive, often sugary drinks, drink contaminated water, or suffer from dehydration. This leads to a myriad of health problems such as diarrhea, stunting, & wasting, all of which have a negative impact on a child's development.
Solution: Drinking Water for Just $1.99 Per Child
Since 2016, we've worked with partners such as Kopernik, Social ImpaKt, Project Child, and Aqua-Danone to provide safe drinking water to over 500 schools in underserved communities through out Indonesia. In 2021, we conducted a pilot project with Aqua-Danone to provide water filters to 150 schools in Lebak Regency, Banten Province, impacting 35,000 children with safe drinking water. Through the sale of carbon credits, we are able to provide maintenance and spare parts for the filters free of charge for life.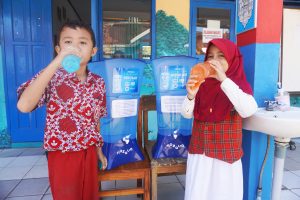 Help us reach 50,000 schools by 2027
Nazava aims to further the success of our school program by providing water filters to 50,000 schools, impacting 12.5 million children by 2027. This will be achieved through contributions by the schools and local government, the sale of carbon credits, and CSR contributions. Learn more about the Lebak Pilot project and our school program here: Nazava's Drinking Water School Program.
To learn more about how you or your organization can help provide safe drinking water to school children, contact Steven Ramsey at [email protected].
[1]: United Nations Children's Fund (2020). The State of Children in Indonesia – Trends, Opportunities and Challenges for Realizing Children's Rights. Jakarta: UNICEF Indonesia.